R/V Thomas G. Thompson TN168-1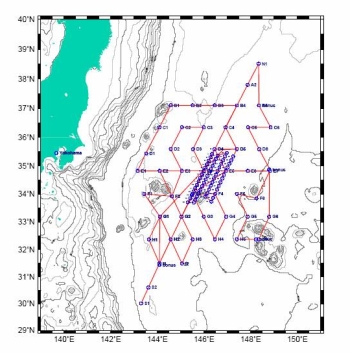 The Kuroshio Extension System Study (KESS) 2-year field program began Summer 2004 with two deployment cruises. The first leg, 24-April to 1-June 2004 (38 at-sea days), departed from and returned to Yokohama, Japan on the R/V Thompson. The main objectives were:
Deploy an array of 50 CPIES on a grid spanning from the southern recirculation region to the mixed water regime and coordinated with Jason satellite altimeter groundtracks.
Conduct a Kuroshio meander / ring feature fine-scale synoptic survey using deep-reaching (750m) ADCP and rapid CTDs to 1200m.
Collect 125 calibration CTD profiles at each CPIES site.
Launch four APEX/Argo profiling floats at CPIES/CTD sites in the southern recirculation.
 PDF of the Cruise Report
Science Participants
| | | |
| --- | --- | --- |
| Name | Institution | Responsibility |
| D. Randolph Watts | Graduate School of Oceanography/University of Rhode Island | Chief Scientist |
| Kathleen Donohue | Graduate School of Oceanography/University of Rhode Island | Co-Chief Scientist |
| Cristin Ashmankas | Graduate School of Oceanography/University of Rhode Island | Watch |
| Jae-Hun Park | Graduate School of Oceanography/University of Rhode Island | Watch |
| Rebecca Briggs | Graduate School of Oceanography/University of Rhode Island | Watch |
| Karen Tracey | Graduate School of Oceanography/University of Rhode Island | Watch |
| Gerard Chaplin | Graduate School of Oceanography/University of Rhode Island | CPIES |
| Garry Savoie | Graduate School of Oceanography/University of Rhode Island | CPIES |
| Erran Sousa | Graduate School of Oceanography/University of Rhode Island | CPIES |
| Franklin Delahoyde | Scripps Institution of Oceanography/Oceanographic Data Facility | CTD |
| Scott Hiller | Scripps Institution of Oceanography/Oceanographic Data Facility | CTD |
| James Schmitt | Scripps Institution of Oceanography/Oceanographic Data Facility | CTD |
| Tony Burke | University of Washington | Marine Technician |
| Michael Realander | University of Washington | Marine Technician |