R/V Thomas G. Thompson TN168-2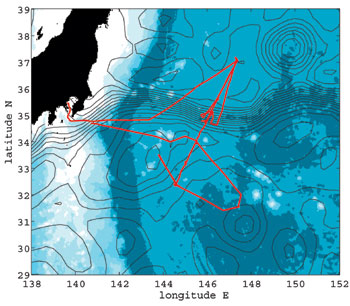 The Kuroshio Extension System Study (KESS) 2-year field program began Summer 2004 with two deployment cruises. The second leg, 5-June to 19-June 2004 (15 at-sea days), departed from and returned to Yokohama, Japan on the R/V Thompson. The main objectives were:
deploy an array of 7 profilers/ADCP/CM moorings;
launch KEO buoy
launch profiling floats;
PDF of the Cruise Overview.

Science Participants
| | | |
| --- | --- | --- |
| Name | Institution | Responsibility |
| Nelson Hogg | Woods Hole Oceanographic Institution | Chief Scientist |
| Steven Jayne | Woods Hole Oceanographic Institution | Co-Chief Scientist |
| Brian Hogue | Woods Hole Oceanographic Institution | MMP |
| James Dunn | Woods Hole Oceanographic Institution | MMP |
| William Ostrom | Woods Hole Oceanographic Institution | MMP |
| Stephanie Waterman | Woods Hole Oceanographic Institution | Watch |
| Bryan Klostermeyer | US Coast Guard | Watch |
| Peter Hacker | University of Hawaii | Argo floats |
| Bo Qiu | University of Hawaii | Argo floats |
| Pierre Dutrieux | University of Hawaii | Argo floats |
| Steven Kunze | NOAA/Pacific Marine Environmental Laboratory | KEO Buoy |
| Fumio Mitsudera | Hokkaido University | Atmospheric Soundings |
| Genta Mizuta | Hokkaido University | Atmospheric Soundings |
| LTJG Jean Dietz | US Navy | Watch |
| AG2 Joshua Kelly | US NAvy | Watch |